Technology
Making the best even better – How we made Color Copy fit for inkjet printing
Printing is a complex process: different technologies, different printing machines, and a host of different types of paper. Especially when it comes to vibrant and long-lasting colours, things can get complex. Fortunately, they don't need to be. Read on and learn how we made the leading paper for digital colour print ready for inkjet printing.
Before we dive in, let us recap first: Color Copy, established as a brand in 1989 but in development for a number of years before that already, was originally designed for toner based colour printing. It was an emerging market, and new machines demanded a new type of paper. Fast forward to 2020, and Color Copy is the gold-standard when it comes to printing on toner-based machines.
But that's not the end of the story. While digital laser printing has become a vast market, another technology has not only kept pace, but is currently in an uptick that shows no signs of slowing down: inkjet technology.

Talking to John Ferraro of HP, one of the largest developers of inkjet printers, it's clear that inkjet technology is a consistently growing market, especially when it comes to home- or office print.
We anticipate growth in inkjet for the home, driven by an increased number of people working and schooling from home. HP expects up to 40% of people could work from home at least occasionally.
From Inkjet to Laser and back to Inkjet

From a technological standpoint, these two ways of printing are vastly different: while laser print uses a dry toner and light to put colour on a page, inkjet uses ink-cartridges, and the ink is transferred to the paper directly. This obviously means that a paper that is suitable for both of these technologies needs to do some heavy lifting, to be suitable for both dry and wet printing, withstanding considerable heat and be able to absorb a lot of liquid. Not an easy feat and something that demands years, if not decades of refinement to get right.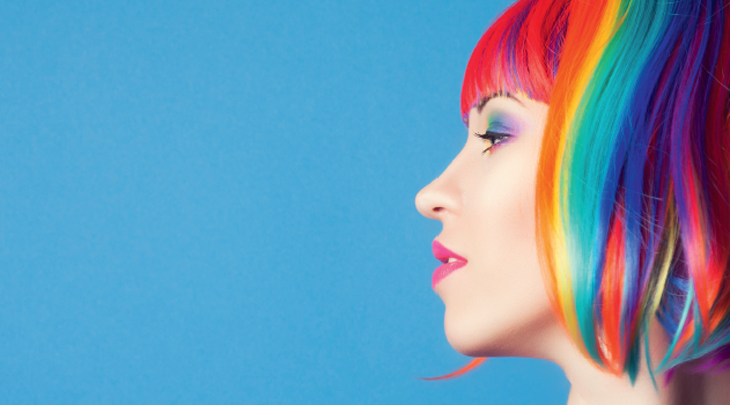 We talked about this with Gerhard Drexler of the Mondi Uncoated Fine Paper R&D team, who was instrumental in the development of Color Copy and who knows a thing or two about the challenges of producing a paper that's suitable both for toner-based and liquid ink based printing. In his estimation, Color Copy original is suitable for both toner-based and ink-based prints, but there is one new aspect to the paper, which will ensure colour brilliance that goes beyond what was possible. The technology in question is called ColorLok®.

Developed as a certification by HP to denote every paper that lives up to a very exacting standard, it now comes with every sheet of Color Copy original.
So how does it work exactly? In essence, when producing Color Copy original, an additional layer is applied to the paper, which ensures that the ink will not be absorbed too deeply into the paper, keeping the pigments closer to the surface and therefore creating a vibrant and brilliant effect whenever colourants are used. This in turn also allows for faster drying, which reduces the chance of smearing.
When printing on Color Copy original with ColorLok® Technology, the colour pigments in the ink agglomerate quickly, therefore staying on the surface, while the other ink-components, like water, are absorbed by the paper. It results in a formidable print job..
Color Copy with ColorLok technology is now available for ColorLok original in A3 and A4 cut sizes, for grammages between 80 and 280 gsm. 
When Inkjet goes high-speed

We have now talked a lot about ColorLok®, an inkjet solution especially for the home- and office-print market.

There is another area where Color Copy provides the same advantage, with a paper specifically designed for it. The name – Color Copy jet – is already an indicator for this very special use. Using a similar method to the ColorLok® Technology, a special pigmentation is added to ensure that the colourants stay near the surface, but not only for regular use in desktop printers, but especially for high-speed inkjet printing.

This ensures that the advantages of vibrant colours that last are also available to machines that produce prints in speeds far greater than traditional inkjet printers. Precision, speed and most importantly vibrant, long-lasting colours are all possible with this addition to the Color Copy portfolio.
As an added bonus, Gerhard Drexler quite candidly mentions that even though Color Copy jet was developed for high-speed inkjet, it also works perfectly on toner-based systems:
In a discussion the idea came up to test Color Copy jet in a common colour-copier, and after putting a few sheets into the next best copier we could find, I was amazed at how perfectly Color Copy jet worked here as well.
Color Copy for every walk of life

As we've seen, despite the challenges of different technologies demanding different qualities in a paper, Color Copy upholds its standard of producing the best results, every time. With the addition of the ColorLok® Technology, it is suitable for home- and office printing, and to make sure that even in professional print Color Copy produces the kinds of vibrant colours our customers are used to, we have developed Color Copy jet. It has the highest colour gamut for office and professional colour laser and inkjet printing and with its special satin finish, it has quickly become a favourite for high-end applications.

This ensures that whatever your or your customers' needs may be, Color Copy will shine, as vibrant as the colours you'll print on it.
 
DID YOU KNOW
There are two types of inks for inkjet printing – pigment- and dye-ink. Due to their different qualities, only pigment-ink works with ColorLok. Why? Because with dye-ink, are already fully dissolved in a liquid, whereas with pigment-ink, the colourants are still in a powdery state, suspended in a liquid carrier. That way the pigments are applied separately from liquid part of the ink, allowing the ColorLok technology to work its magic.
 
To learn more about the world of Color Copy and be alerted of stories like this one right in your inbox, sign up for our newsletter right here:
Podcast
To learn everything about Color Copy and inkjet printing and how Mondi UFP worked on reaching ColorLok certification, listen to this interview with Gerhard Drexler of the R&D division of Mondi UFP, published as an episode of our "Print & Paper"-podcast (in German):
Contact
We'd love to hear from you!