Reference
Color Copy Sample Book
Expanding the offering for digital print
Color Copy is the leading digital colour printing paper and has been a frontrunner in this sector for the last 30 years (and counting). We have managed this by consistently working towards expanding our offering and delivering on our promise of premium results and vibrant colours, every time.
As the world's first CO₂ neutral digital colour printing paper, we've paved the way for excellence across the board. Color Copy offers unbeatable quality from A4 to the whole range of digital printing formats. We recently introduced our extra-long digital formats as an example of how we innovate with our products, so that you can rely on Color Copy for all your needs.
The idea: the entire portfolio in one book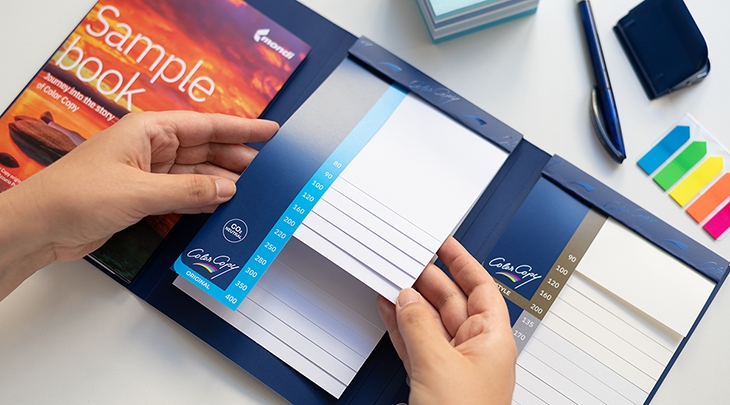 Our new sample book is a tool for existing and prospective clients to see and feel the characteristics of our paper. Since every print job calls for a different, unique need, we wanted to showcase our entire portfolio in an easy to visualise format, while also demonstrating what is possible with digital print when you choose a high quality paper like Color Copy. ​​​​​​​
We wanted to demonstrate the excellent quality of our papers throughout the whole range, as well as to showcase advances of digital printing technologies, particularly in relation to inkjet. We worked with the agency Radley Yeldar on the design of the sample book, to bring all these elements together.
The outcome:
​​​​​​​a comprehensive look (& feel) into our portfolio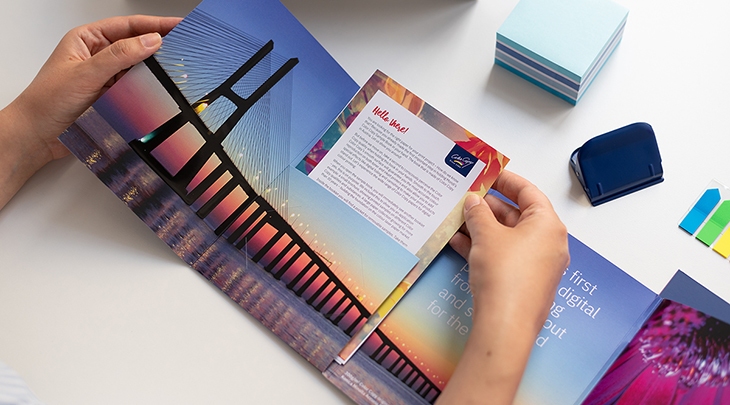 The sample book unfolds into three sections. On the left, you have an interactive booklet printed on Color Copy original 400 g/m² that communicates our brand values and passion for digital printing. In the centre is a comprehensive waterfall overview of all grammages and formats of Color Copy original and on the right-hand side there is a similar waterfall display of our other papers in the portfolio — Color Copy style, Color Copy coated silk, Color Copy coated glossy and Color Copy jet.
The cover of the sample book is printed on Color Copy original 400 g/m² and is finished with foil lamination, giving the sample book a premium look and feel.
The booklet within shows printed samples on different Color Copy qualities and substances, so you can easily flick through and see the differences in print reproduction.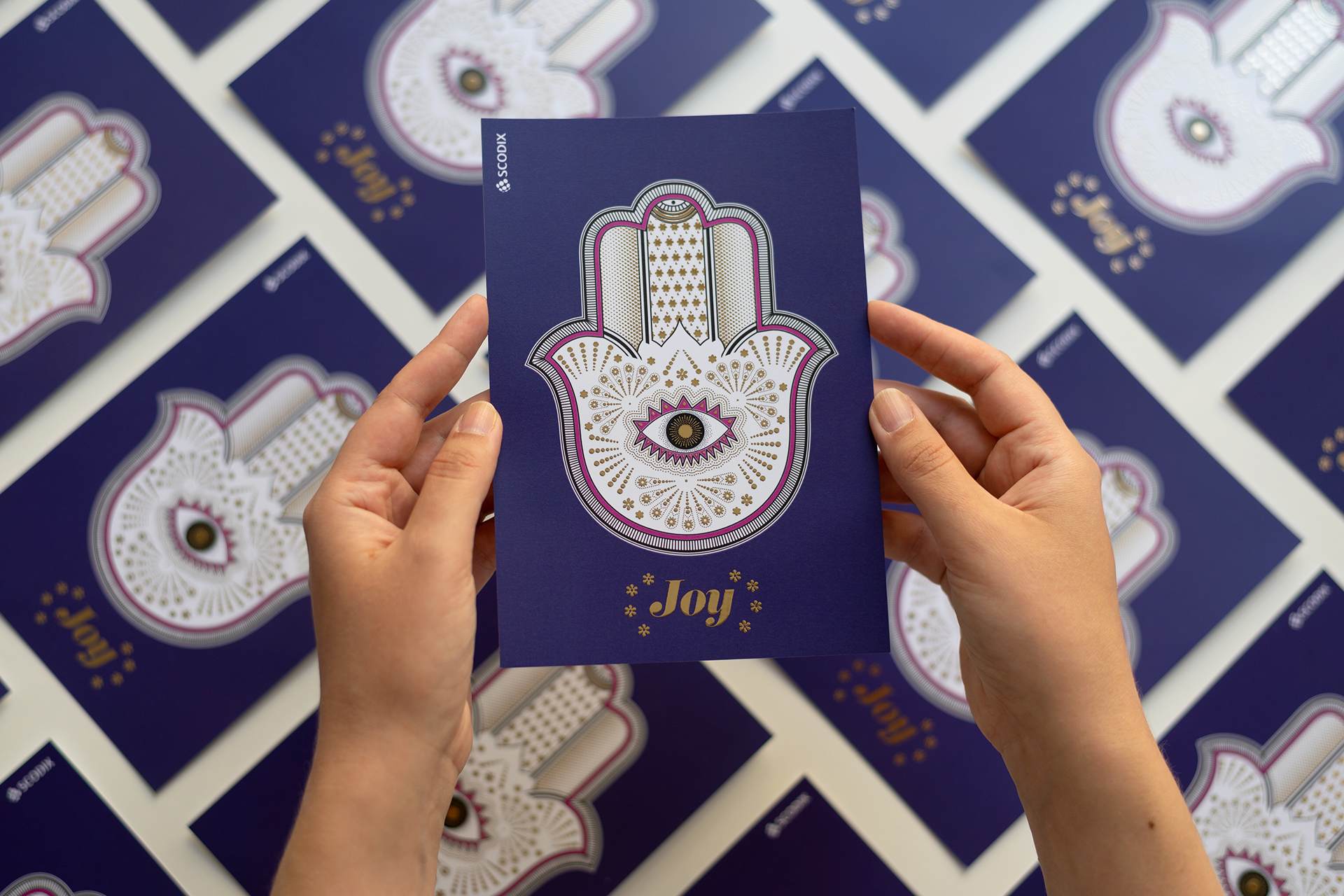 The booklet cover is printed on our extra-long digital format Color Copy original 300 g/m² and once unfolded reveals a pocket.​​​​​​​
Inside, you will find removable samples, so you can take a closer look at some examples of possible applications and special finishes. ​​​​​​​
The process: how it came together
To showcase the versatility of the paper and excellent colour printing on state-of-the-art production machines, we produced the new sample book on three production toner presses and two production sheet-fed inkjet presses.
Konica Minolta AccurioPress C6085
Canon image PRESSC10000VP
Xerox Iridesse
Canon Varioprinti300
Fujifilm Jetpress720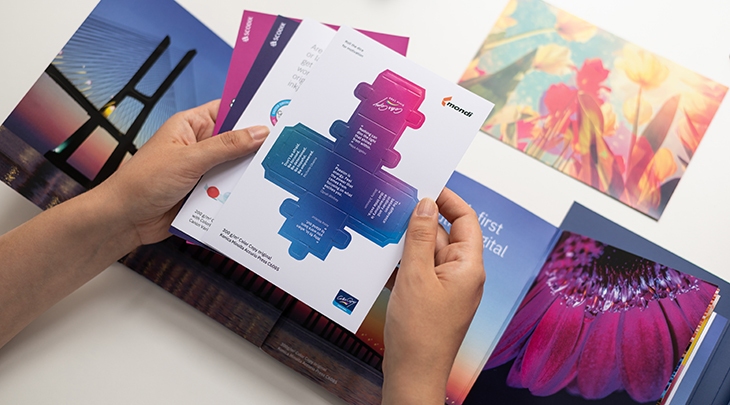 The wow factor: special print finishes
​​​​​​​We didn't just want to create a standard sample book. In addition to covering the essentials, we also want to highlight the advances in digital print in regards to special finishes. Long gone are the days where special finishes are only possible on offset printing.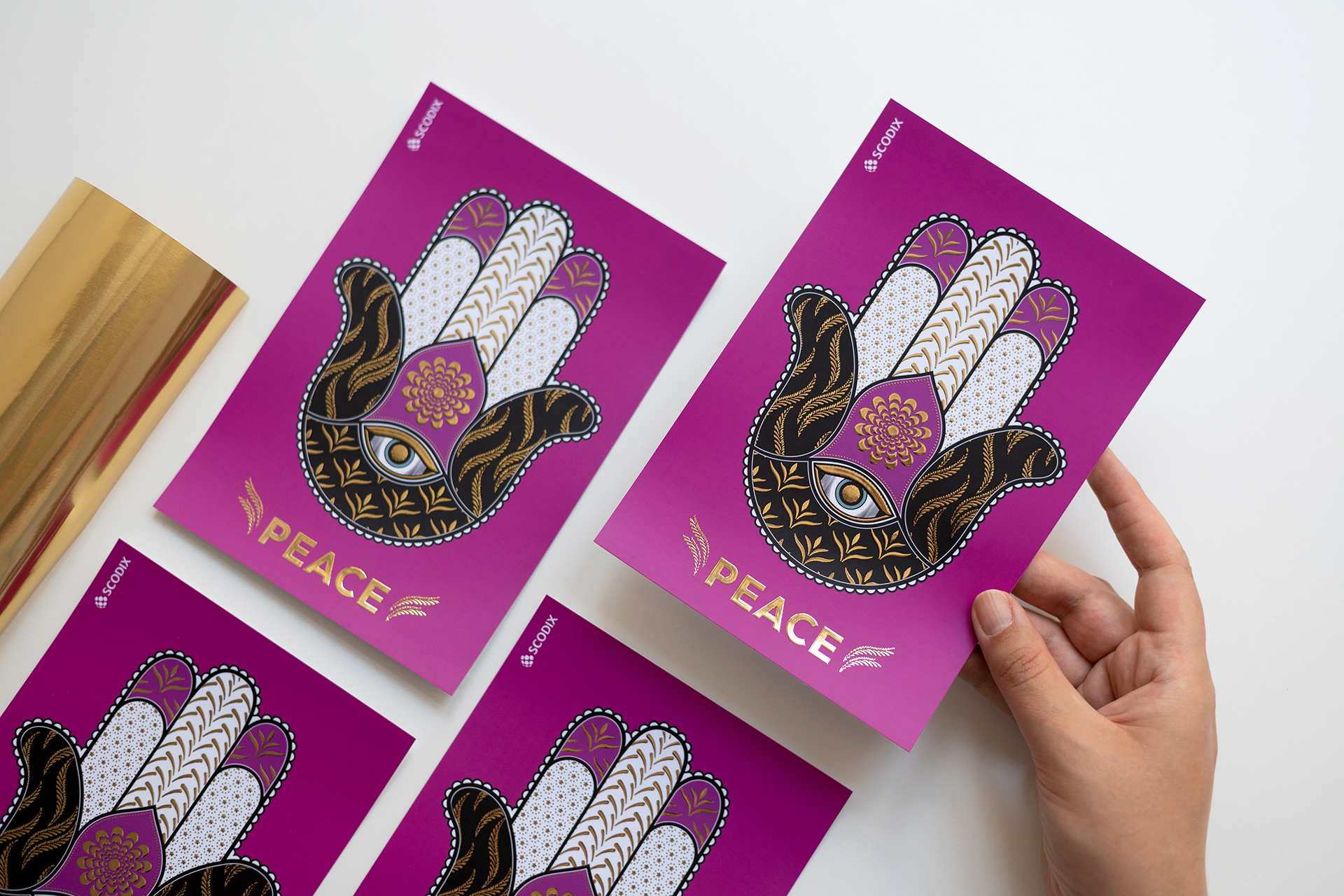 Digital printing is now equally capable to deliver these finishes — including Scodix digital gold foiling, bold neon pink and gold dry toner, and varnishing applications — and Color Copy is the perfect paper for this.
In order to demonstrate this, we included special finishes throughout the sample book, such as:
Varnishing: MATRIX 370p fast OvertonerFoiling (partial UV inkjet varnish)
Digital foiling applications (Scodix Ultra)
Die cutting applications
Foil lamination on the cover
Want to flip through one of our sample books yourself?
Reach out to our team, so that they can discuss how to fulfil your needs with Color Copy.
Printing machine:
Konica Minolta AccurioPress C6085; Canon image PRESSC10000VP; Xerox Iridesse; Canon Varioprinti300; Fujifilm Jetpress720