Story
Feelbooks for Pergraphica
Producing Pergraphica, in all its grammages, shades and colours, is a big source of pride for us. Seeing it used in the most diverse ways, some of which we showcase on this website, makes it even more special for us.
While we're aware of how special Pergraphica is, in order to make sure our paper is used as widely as possible, it takes a bit more than pride in what we do. It takes tools that allow prospective clients to see and especially feel the virtues of our paper. Creating such a tool isn't an easy feat. Different clients have different needs, and combining all of them in one book takes some work and ingenuity. Well, we're certain we pulled it off. Let us show you how.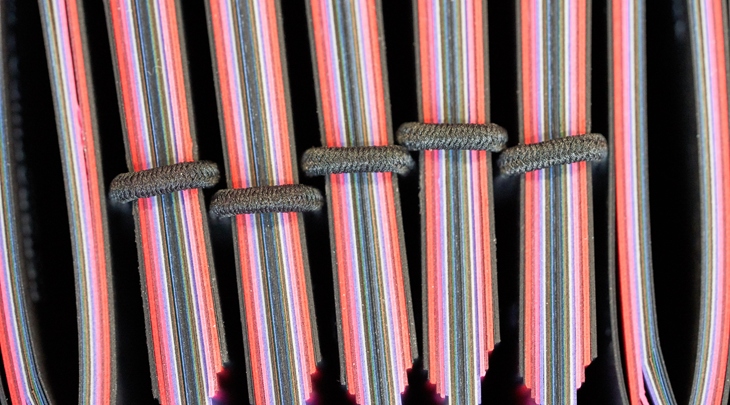 First, we took a long and hard look at how much we wanted to show of each shade and grammage. We had listened to the feedback we had received to our previous feelbook and decided, in order to do justice to both look and feel, to forego the common waterfall format and go full-sheet for every shade and grammage.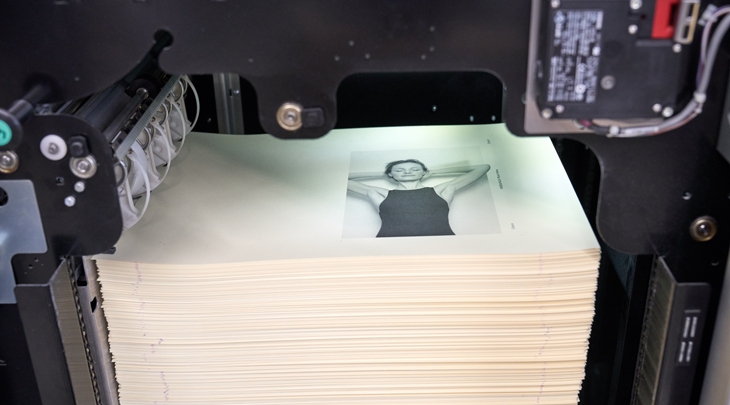 Now, we also wanted to allow for as many comparisons as possible, not just between papers, but between printing technologies as well. Therefore, our Pergraphica Colours Feelbook was printed using three different printing technologies: conventional offset, Xerox Iridesse and Indigo 7600. Sure, we were aware that this would add considerable complexity to the production process, but with world-class UK design-agency
BOB
and Swiss printers
Bubu
and
groupe Gassmann
at our disposal, we had all the support we needed.
Before anyone would even get a look inside the book, though, we wanted to dazzle them with a cover that plays on one of the core-strengths of Pergraphica: its haptics.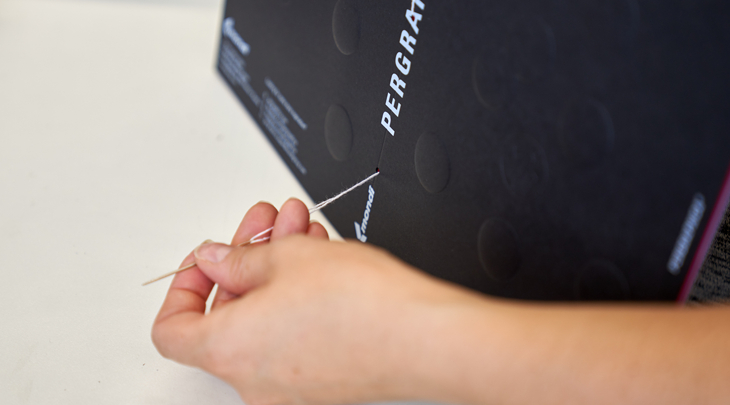 We pulled this off with blind embossing on 300g/m2 Pergraphica Classic Rough, and the LE-UV printed logo showing off how crisp and clean this finishing technology works on Pergraphica. And thanks to the knot-threadbinding, both used for our Pergraphica Whites and Pergraphica Colours Feelbooks, all the shades and colours could now be seen at first glance as well. An industry first, we should add.
Inside, after an introduction to Pergraphica in English, German, French and Italian, we gave every Pergraphica Whites shade a full, separate page for every available grammage. With 31 new Pergraphica Colours, we didn't want to create a tome, so we limited ourselves to one grammage per colour. To top it off, every page now displays available grammages, formats, grain directions and certificates. And for anyone who wants even more information at a glance, at the end of both feelbooks we added a portfolio overview, complete with the available grammages and formats.
So, having covered what we deem the essentials, we decided to go a step further and make our feelbooks not merely informative but fun to flip through as well: custom photography, created at a photoshoot in London, was added to each shade and colour, bringing to life what would otherwise be a rather static page.
Seeing is believing, and what's more believable than our paper in action?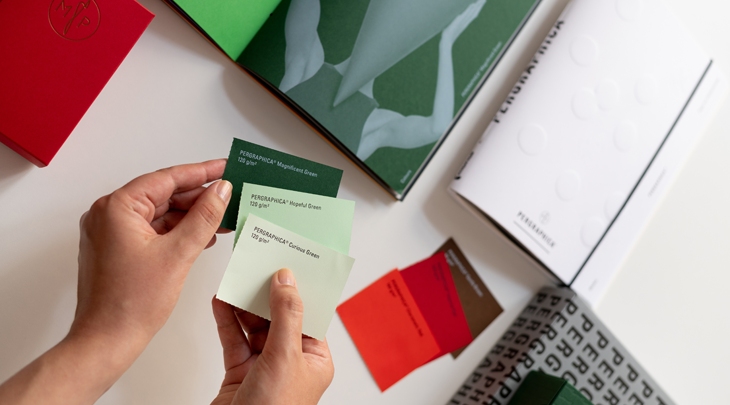 Finally, we added a feature we identified as one of the most desired during the many feedback rounds with some of our biggest distributors: the option to compare colours side by side or even create your own groups of colours. You'll now find, at the end of each feelbook, little tear-out cards, comprising the whole portfolio, which you can easily remove due to the added micro-perforations.
In summary, we made a good thing even better – and then added even more good stuff on top. If you want to go from reading about our feelbooks to holding them in your hands, don't hesitate to contact our team, so they can help you explore them with you.
Project:
Pergraphica Feelbooks