Interview
An interview with gugler*
With the Cradle to Cradle Certified® product standard, gugler* has found an innovative solution for assessing and optimising the material health of the entire value chain through scientifically-proven methods – a solution to make printing 100% recyclable and waste-free.
1. There are many certification systems for sustainable print production. Why did you choose Cradle to Cradle Certified®?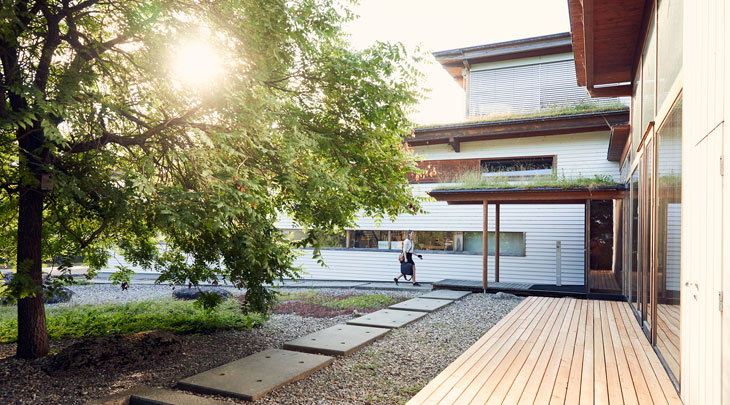 For more than 30 years, we have set the benchmark for eco-friendly printing. Throughout this time, we have also been working on furthering the ecological optimisation of our printing products; in fact, we were the first in our industry to receive an Austrian Ecolabel and FSC™ certification.
Since 2009, we have worked intensively on the chemical composition of our print products and searched for solutions to optimise our upstream value chain.​​​​​​​
With the Cradle to Cradle Certified® product standard, we have found an optimal and innovative solution for assessing the material health of the entire value chain with scientifically recognised methods – and optimising it together with our suppliers and their sub-suppliers.

​​​​​​​​​​​​​​No other standard has such a profound effect on the formulation, and therefore overall health, of print products.
In 2011, we became the first printer in the world to offer Cradle to Cradle Certified® print products. We are currently the only printer in the EU that prints Cradle to Cradle Certified at the Gold level.
​​​​​​​2. What inspired you to apply for Cradle to Cradle Certified® certification, as the first printer in Austria? Does this certification allow you to have a greater impact on the environment? ​​​​​​​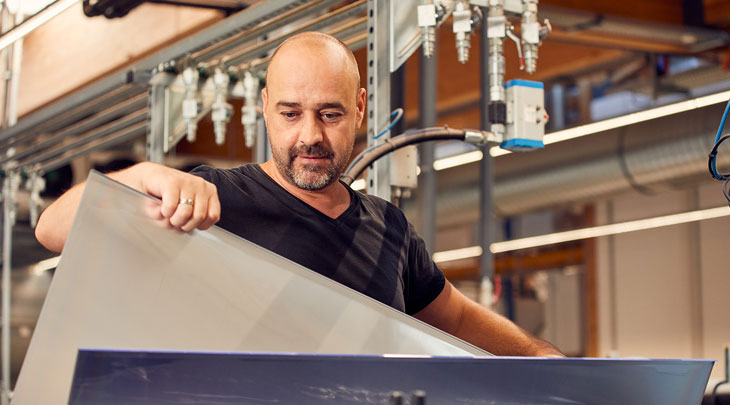 The Cradle to Cradle Certified® product standard offers the world's most advanced, cross-industry, multi-stakeholder standard for the development and manufacturing of healthy products for the circular economy.
In the circular economy, it is necessary to think about what will happen to materials after their life cycle, before you even start production. Typically, once products are produced, these materials are recycled or become hazardous waste. In the circular economy, however, materials are deliberately designed in such a way that they can be fed back into the cycle – following the mantra of "waste is food". With this process, there is no waste and no resources are used unnecessarily.
In the case of print products, printing ink and fillers are removed from the paper during the recycling process. The paper becomes pulp, from which new paper is made again. With Cradle to Cradle Certified® print products, the detached inks become biological sludge, which can be used as food for new trees. With conventional print products, problematic waste is created in this process.
3. How involved are your suppliers in your Cradle to Cradle Certified® certification?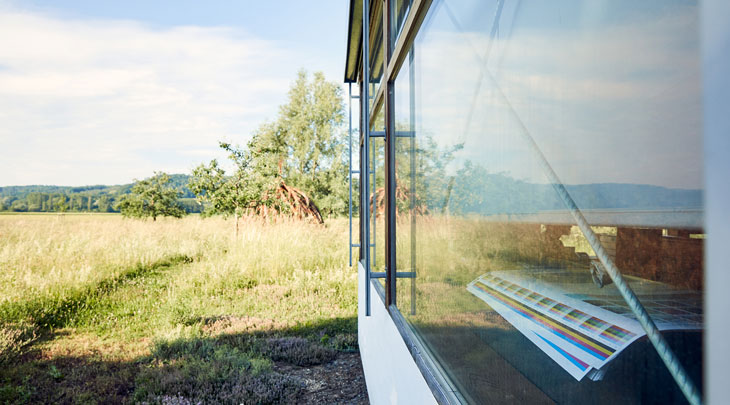 Only materials that are safe for people, animals and the environment may be used in Cradle to Cradle Certified® print products. Since printed products contain additional components such as paper, inks, glue and lacquer, all ingredients down to the last sub-supplier must be checked and ecotoxicologically reviewed by external specialists. These ingredients are then optimised if necessary, should they contain any substances that are harmful to human health or the environment.
If only healthy ingredients are present, no harmful residues can be left over after recycling. This is why Cradle to Cradle Certified® printing results in 100% waste-free and recyclable print products. It doesn't get any greener than that!
We currently process 40 Cradle to Cradle Certified® materials, 18 Gold and 22 Silver. This includes Cradle to Cradle Certified® grey board at the Silver level – a world first.
4. What challenges come with Cradle to Cradle Certified® certification and other ecolabels?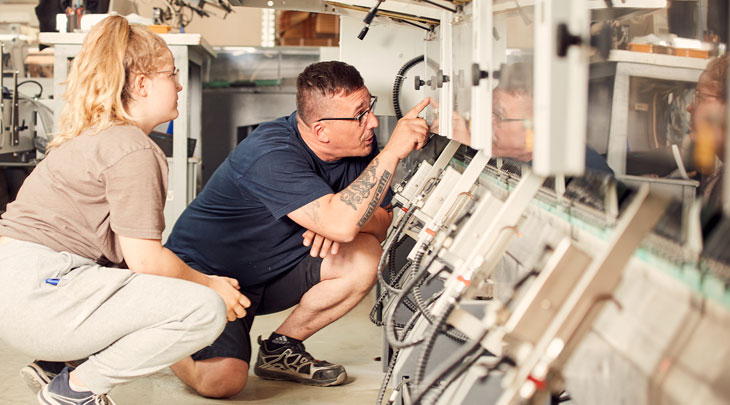 Cradle to Cradle Certified® certification is the highest standard for eco-printing currently on the market; this means that the certification is very complex, but also very reliable. No certificates about the harmlessness of substances are shared between sub-suppliers, but all chemical formulas are disclosed and closely examined across the board. This means that in the end we have 100% visibility of what is in our print products – and we also know that it is 100% harmless.
In addition, a Cradle to Cradle Certified® certificate evaluates not just the materials, their ingredients and their recyclability, but also the entire manufacturing process through to CSR management within the company.
For example, gugler* has achieved Gold certification in the areas of material health, recyclability and water management, and Platinum for the use of renewable energy – due to the in-house photovoltaic system, the Cradle to Cradle-inspired energy-plus building and the climate-positive printing. Altogether, this has led to an overall certification achievement level of Gold (the lowest level from the individual category performance is always taken as the overall achievement level).
5. What are the benefits of sustainable production for your customers? How would a reader know that they are holding a sustainable print product?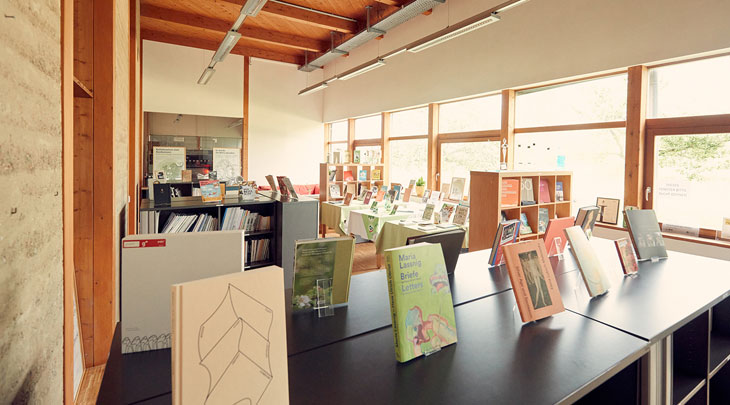 Readers can recognise a truly sustainable print product thanks to the Cradle to Cradle Certified® logo on the back: a sideways eight – the infinity symbol – consists of a green circle for the biological cycle and a blue circle for the technical one. This logo provides readers with the assurance that the product they have in their hands will not endanger their own health or harm the environment. Health and ecological standards are especially important for children's books, since children have been known to put books in their mouths…!
6. Are your customers willing to pay a premium for Cradle to Cradle Certified® print products?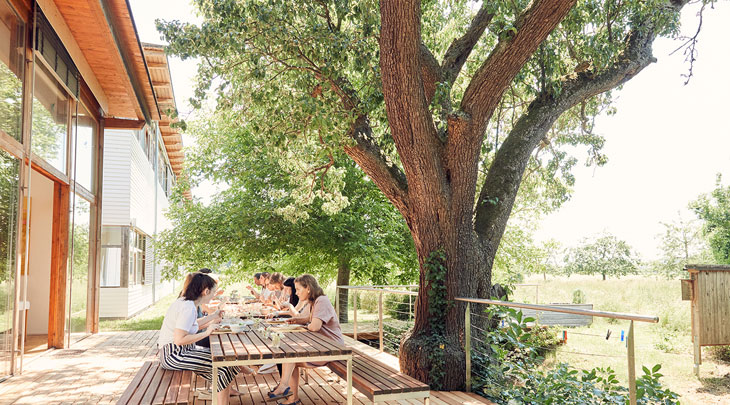 Yes, they are. First, because a Cradle to Cradle Certified® print product only costs about 3% more than conventionally-printed products. Second, because many of our customers know that only such responsible behaviour will lead to a suitable future for their grandchildren. Above all, customers who want to print sustainability-focused content also want to make sure that it is sustainably produced; that is how they can build credibility and trust. More and more customers are questioning not only the production of products, but also the ecological behaviour of the company behind those products — this is the success factor of the future. ​​​​​​​
7. How has being Cradle to Cradle Certified® changed the positioning of your company?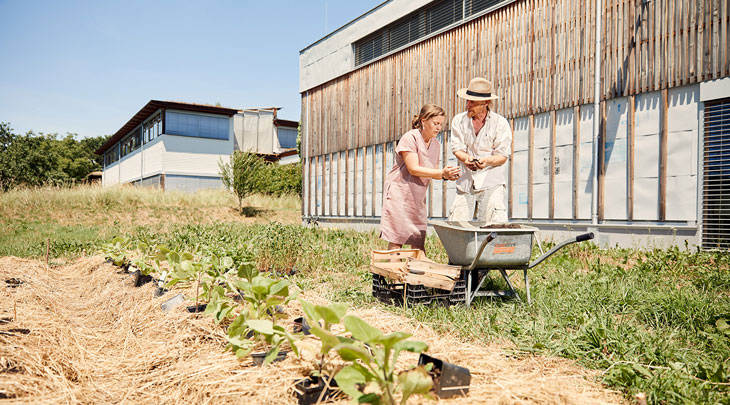 Being Cradle to Cradle Certified® has not changed our positioning per se, but the certification has strengthened and solidified our positioning. gugler* is considered a pioneer in sustainable, common-good-oriented economic activity that is beneficial for both people and nature. The company was founded on this idea, and the Cradle to Cradle Certified® certification allows us to prove how we truly live this vision.
Cradle to Cradle Certified® certification contributes to gugler*'s sustainability goals, which have always been in focus. gugler* has earned the status of eco-pioneer and trailblazer with 30 years of continuous advancements and with the lived sustainability that the company practices at every level, every day. ​​​​​​​
8. What are the most recent developments in the print sector when it comes to sustainability? Which developments are most important here? Which developments will make the greatest difference in the future?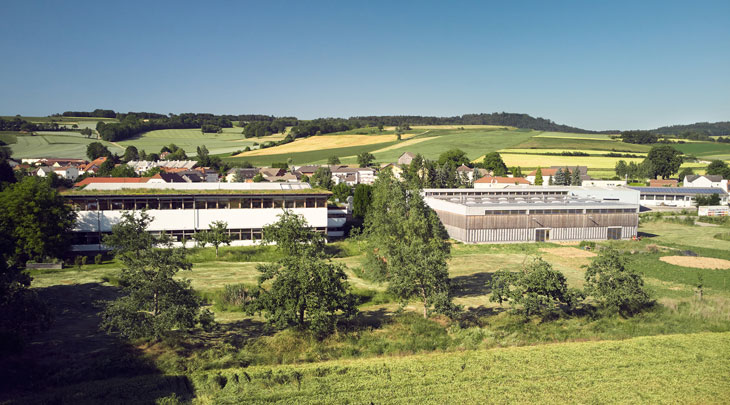 At gugler*, we believe in a carbon tax for corporations. This tax ensures that product pricing includes not only production costs but also, if applicable, the cost of environmental damage throughout the production process. Such pricing would create fair competition between conventional and sustainable companies, but also influence the customer's decision and reward sustainable practices. ​​​​​​​